Allocco one of 50 Directors chosen br Steve Spielberg for TV Series "ON THE LOT" on FOX
After receiving a record-setting 12,000 video submissions, Phil Allocco,a director and writer from New York City ia one the 50 filmmakers picked by Steven Spielberg for the new filmmaking competition series ON THE LOT from Mark Burnett, Steven Spielberg and DreamWorks Television.
A special two-hour "Film Premiere" episode, featuring the first films produced by the 18 finalists, will air Monday, May 28 (8:00-10:00 PM ET/PT) on FOX. It will be up to the American public to determine the first finalists to be eliminated from the competition; voting results will be announced the following night on the expanded first "Box Office" results show Tuesday, May 29 (8:00-9:00 PM ET/PT). ON THE LOT's weekly "Film Premiere" episodes air in their regular time period beginning Monday, June 4 (8:00-9:00 PM ET/PT), and the weekly "Box Office" results shows will air on Tuesdays (8:00-8:30 PM ET/PT) starting Tuesday, June 5.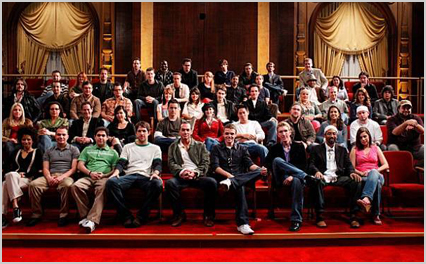 http://www.thelot.com/about/
http://en.wikipedia.org/wiki/On_the_Lot
http://www.imdb.com/title/tt0790557/