Allocco Directs 12 Mini-Docs for History and Bank of America - Premieres during "America, The Story of Us" April 25, at 9 p.m. on History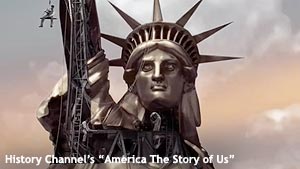 Bank of America is lending some unusual advertising/programming help to the cable network History for its massive 12-hour series "America: The Story of Us." The financial services company is not only the presenting sponsor of the series, it will produce -- through a partnership with History -- 12 two-minute, original mini-documentaries about itself.
Bank of America's marketing support will also include integrated marketing, including video on-demand programing and online. To reach its more than 58 million customers and 282,000 associates, the company will air series trailers and segments on screens in more than 1,000 Bank of America banking centers. Other ads will appear on BofA's Web sites, which have about 24 million unique monthly visitors.
History says the mini-documentaries will showcase the roles Bank of America has played throughout America's history. The bank's historical roots go back to 1784. "We could not have found a more perfect, natural partner," stated Nancy Dubuc, president and general manager, of History.
Other corporate underwriters of the series include General Motors, Valspar and Geico. The series will debut April 25, 8 p.m. ET/PT. Starcom USA, Bank of America's media agency of record, helped ink the deal.
President Barack Obama Makes a Visit to the History Channel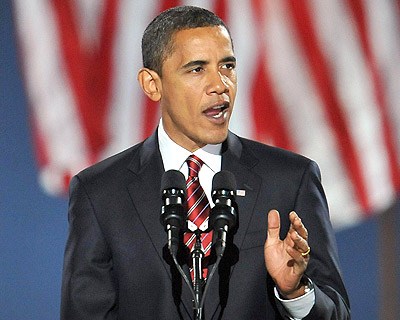 President Barack Obama will be providing a special introduction to the History channel's 12-hour, six-night series, "America the Story of Us," covering 400 years of U.S. history.
President Obama is planning to tell his fellow Americans that turning points in American history "remind us that our American story has never been inevitable. It was made possible by ordinary people who kept their moral compass pointed straight and true when the way seemed treacherous; when the climb seemed steep; and when the future seemed uncertain. People who recognized a fundamental part of our American character: that we can remake ourselves -- and our nation -- to fit our larger dreams." "America the Story of Us" tells the story of how America was invented, looking at the moments where Americans harnessed technology to advance human progress -- from the rigors of linking the continent by transcontinental railroad to triumphing over vertical space through construction of steel structured buildings. The series is also a story of conflict -- with Native American peoples, slavery, the Revolutionary War that birthed the nation, the Civil War that divided it and the great world war that shaped its future. The full series will be made available on DVD to every school and accredited college in the country, and additional educational resources and grant contests will be offered to students, faculty and institutions. Resources for teachers will be created in collaboration with the Library of Congress.
The president's remarks will open the premiere episode on Sunday, April 25, at 9 p.m. on History.