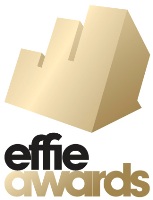 HISTORY®, Bank of America and Red Thread Productions Celebrate Gold Effie Award
For New Commercial Format Called "Interstitial Content"
New York, NY – June 8, 2011 – HISTORY, Bank of America and Red Thread Productions were recognized with a Gold Effie Award for Single Media Company Activation during last night's 43rd Annual North American Effie Awards in New York.
The award recognized the groundbreaking advertising format called "interstitial content" that was created for America the Story of Us. This 12-hour documentary series aired during April and May 2010 on HISTORY and covered 400 years of United States history.
HISTORY, working with Red Thread Productions, created 12 two-minute, original mini-documentaries that depicted Bank of America's rich history and contributions to America's economy during the times depicted by each series episode. The goal of each interstitial content piece was to showcase the role that Bank of America has played throughout America's history in enabling economic opportunity for individuals, businesses and communities throughout the United States.
"We could not have found a more perfect, natural partner," said Chris Moseley, SVP, Marketing, HISTORY. "America the Story of Us told the extraordinary story of how America was invented. Bank of America is intrinsically and integrally intertwined with the growth and development of this nation. We were pleased to have created this groundbreaking campaign with Bank of America and Red Thread Productions."
"We are incredibly honored to receive a prestigious Gold Effie for our work with HISTORY," said Meredith Verdone, Brand, Advertising and Research executive, Bank of America. "This industry recognition is a product of finding the right media platform and partner that enabled us to authentically deliver the Bank of America brand and powerfully connect the idea of opportunity with our customers."
The interstitial content was developed working with historians to insure accuracy. It was also shot at historical landmarks throughout the United States and produced in just a few short weeks by the Red Thread Productions team. Additional creative support was provided by Bank of America agencies Starcom USA and Hill Holliday.
"It was an exciting challenge because the mini-series had to meet Bank of America's objectives and, at the same time, be true to History's brand. It also had to work for the America the Story of Us series," said Director, Phil Allocco.
The winning team from Red Thread Productions: Director: Phil Allocco. Executive Producers: Nadine C. Licostie and Connie Grazia. Producers: Tony Grazia and Suzanne Mitchell. Director of Photography: Peter Mariuzza. Editors: Fedde and Jason Jones. Graphic Design: Claudia D'Enjoy
About HISTORY
HISTORY® and HISTORY HD® are the leading destinations for revealing, award-winning original non-fiction series and event specials that connect history with viewers in an informative, immersive and entertaining manner across multiple platforms. Programming covers a diverse variety of historical genres ranging from military history to contemporary history, technology to natural history, as well as science, archaeology and pop culture. Among the network's program offerings are hit series such as American Pickers, Ax Men, Brad Meltzer's Decoded, Ice Road Truckers, Top Gear, Pawn Stars and Top Shot, as well as acclaimed specials including America the Story of Us, WWII in HD, 102 Minutes That Changed America, The President's Book of Secrets and Life After People. HISTORY has earned four Peabody Awards, seven Primetime Emmy® Awards, 12 News & Documentary Emmy® Awards and received the prestigious Governor's Award from the Academy of Television Arts & Sciences for the network's Save Our History® campaign dedicated to historic preservation and history education. Take a Veteran to School Day is the network's signature initiative connecting America's schools and communities with veterans from all wars. The HISTORY website, located at www.history.com, is the leading online resource for all things history, featuring over 20,000 videos, images, audio clips, articles and interactive features that allow visitors to dig deeper into a broad range of thousands of historical topics. For more information go to www.historypressroom.com
About Red Thread Productions
Red Thread Productions is a unique creative services agency built on a foundation of collaboration. Our experience in branding, marketing, and communication strategy has led to the production of award-winning digital media including film & video, interactive design, web & new media, presentations, and live events.
With decades of collective experience, our creative directors, writers, designers, editors, and production teams are aligned to bring our clients the best in creative, strategy, and innovation. Red Thread Productions has been a part of successful film and television programming, network upfronts, interactive projects, broadcast promotion, and product launches. www.RedThreadProductions.com.
About The Effie Awards
The Effie Awards are known by advertisers and agencies globally as the pre-eminent award in the industry, and recognize any and all forms of marketing communication that contribute to a brand's success. Since 1968, winning an Effie has become a global symbol of achievement. Today, Effie celebrates effectiveness worldwide with the Global Effie, the Euro Effie, the Middle East / North Africa Effie and more than 40 national Effie programs. For more details, visit www.effie.org. Follow @effieawards on Twitter for updates on Effie information, programs and news.